In this post, I'll answer the question, "What is a Fiverr Gig?" and provide a brief history of the company.

What is Fiverr Anyway?
Fiverr is a global online freelance community offering tasks and services, beginning at a cost of $5 per job. They've been around since 2010 and revolves around their original premise of "What are you willing to do for $5?"  Do you remember the ads?
If you're like me your initial thought was "what the heck kind of service can I get for $5, it can't be any good, right?" Then I learned that Fiverr has a strict policy and anything too weird is not tolerated. A great feature is that sellers are reviewed and rated by previous customers, you're able to check them over before making your decision to purchase.  So if you're in need of digital services, for $5, might as well give it a shot.
Over the years, the Fiverr platform has continued to grow and now offers digital services in over 200 categories. Since they're beginning, the platform has helped businesses and freelancers connect in more than 160 countries with 50+ million transactions.
Oh yeah, the price now ranges from $5 – $10,000. If you have a specialized talent, the Fiverr platform is a great place for customers to find you.
CLAIM YOUR DISCOUNT:
As the owner of this website, I've found special deals and discounts for some of the products and services I mention throughout. When you use any of the links on this page to make a purchase, I may get a small commission and you are getting a great deal. There's no added cost to you whatsoever. Full disclosure.
What is a Fiverr Gig?
A service offered on Fiverr is called a Gig and is also referred to as a 'micro-job" that starts at $5. What that basically means is that the base price for any service is $5 but the order could be hundreds of dollars with any add-on services provided (referred to as "Gig Extras").
Creating your Gig on Fiverr is an opportunity to market your talent. The platform enables you to provide potential buyers with all of the necessary information they require to make the decision to do business with you.
Depending on the type of service offered and the amount of time involved to complete the Gig, a seller can turn out lots of Gigs in a day and make some decent money. To receive consistent Gigs that pay well, as a freelancer, you need to develop your reputation and that can take some time.
What Are Some Fiverr Gigs?
You can offer any service you wish as long as it's legal and complies with the terms of service. With over 200 categories that you can browse, you're sure to get some ideas. Most of the gigs involve technical skills such as:
This is just the tip of the iceberg; there are so many options to choose from. There are sellers that will sing a custom birthday song or a singer for the song you wrote. You can find someone that will write jokes for your speech and as silly as it seems, there's someone that will laugh at your jokes.
In addition, there is also a section called "Fiverr Pro". The freelancers in this area are verified as "exceptional talent; they are hand-vetted for stellar quality and service". These sellers starting rate can be anywhere from $100 to 1000's of dollars per Gig. Some high dollar examples are:
Just to name a few.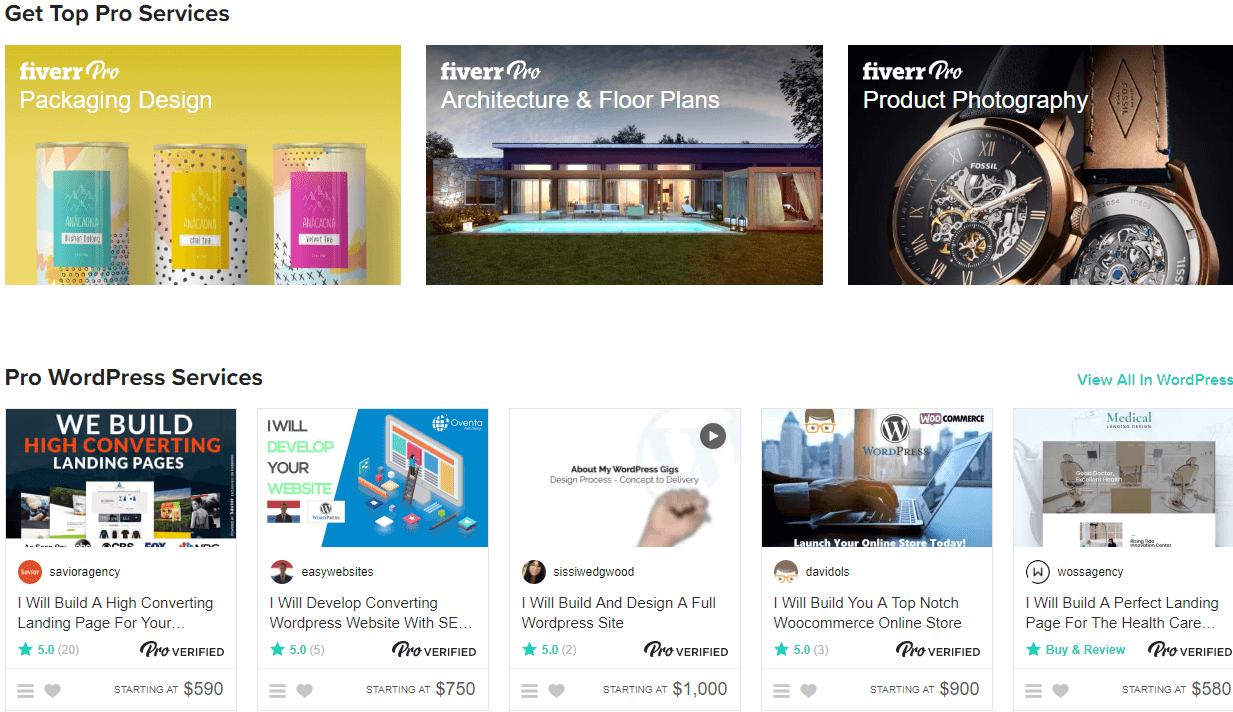 How Does Fiverr Work?
Once you have determined that you want to explore marketing your talents or looking to purchase a Gig, you must first sign up. The following is a brief synopsis of the process for buyers and freelancers:
Sign Up For Fiverr
It's free to join Fiverr. There is no subscription required or fees to list your services or any cost involved to search for services. After you have signed up for your free membership, you'll receive an email with a registration link to confirm your account. Once complete, you're ready to begin your journey to success.
Fiverr For Buyers
If you're in need of a service you are able to browse the entire site and explore the marketplace. You can use the search bar to easily find a Gig or get ideas to suit your needs. As mentioned above, you can find just about any type of service but it is very important that you read through the freelancer's description of their services to ensure that it's what you're looking for.
It's also a very good idea to review any samples of the freelancer's work and read through the feedback from other buyers. You are more than welcome to contact the freelancer with any questions that you may have to ensure you're getting what's expected.
Another cool option that Fiverr offers is referred to as a "Gig Request" or "Post a Request". This feature is only for buyers looking to purchase services. You can get free offers if you're too busy to browse for services? Just ask for what you need done, set your delivery time, budget, and receive custom offers straight to your inbox.
Once you are confident that you have found the best package to fit your needs, you just click on the Gig and proceed to checkout to make the purchase. There are plenty of options to pay for the Gig. You can use a credit/debit card, PayPal, Apple Pay if using the Fiverr mobile app, and iDEAL (only in the Netherlands).
On a side note: All purchases are subject to a service fee of $2 on purchases up to and including $40, and 5% on purchases above $40. This helps Fiverr operate the platform and offer 24/7 customer support for your orders.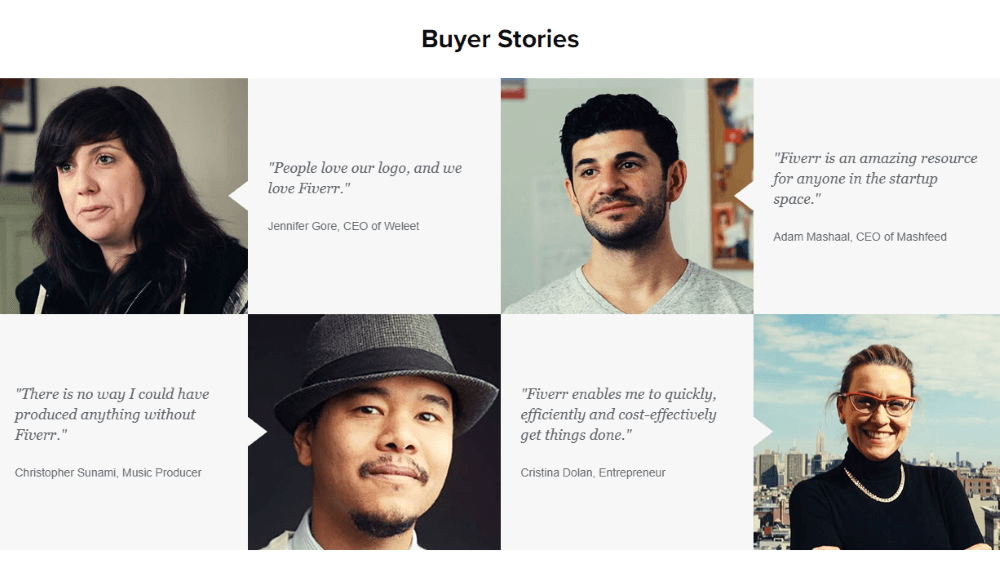 Fiverr For Sellers (Freelancers)
It's very easy to begin marketing your Fiverr Gig. The best part is that there is no cost (free) to join and buyers pay Fiverr for orders in advance. There is no subscription required or any fees to list your services. You keep 80% of each transaction.
There is no need to worry about receiving payment for your services, once you complete a buyer's order; the money is transferred to your account. No need to wait for 60 or 90 days for a check.
You can offer any service you wish as long as it's legal and complies with the Fiverr terms of service. Be creative! As mentioned above, there are over 200 categories you can browse to get ideas.
When creating a Gig, you can set your pricing anywhere from $5 – $995 and in certain categories you have the option to offer three versions of your service at three different prices. You also have the ability to add extra services like "extra fast delivery" for an additional charge.
How much money you can make is completely up to you. You can put as much time into your Gig as you desire. There are many sellers that work full time on Fiverr and some prefer to keep their 9-5 job and use Fiverr to make extra money.
Fiverr Learn
You can grow your digital skills with Fiverr Learn. It's an exciting feature of the platform as they offer courses in "Creative Design" and "Digital Marketing". These are on-demand professional courses, led by the world's leading experts handpicked by Fiverr.
You'll learn proven methods, processes involved, and the best practices and you can apply them to your work immediately. There are no subscription fees; you only pay for the courses you want to take and no monthly fees. You'll know the exact cost up front.
Final Thoughts on Fiverr
Fiverr offers digital services in over 200 categories with thousands of services listed. There are unlimited options for both buyers and freelancers.
Fiverr has 24/7 support to answer any questions or resolve any issues that may come up.
For Buyers, creating an account is simple and it's easy to search for the services you're interested in. There are plenty of ways to easily pay for Gigs.
The platform is easy to use; you can compare costs and services among the many freelancers. Easily check their ratings and reviews to determine what best suits your need and can communicate directly with the seller.
Fiverr provides sellers (freelancers) an opportunity to earn quick money for online micro-gigs. There is potential to create consistent work depending on the service and performance rating.
As with buyers, the platform for sellers is easy to use and it's simple to set up a Gig.
A Gig is bought every 4 seconds. It's a great opportunity to earn extra money or create a full-time business.
No subscription or monthly fees required.
If you have any experience as a buyer or seller on Fiverr, I'd love to hear from you. Please leave a comment below to let others know your thoughts on the Fiverr platform.